Online Shopping Now Available!
You can now visit our online store to shop with free delivery!
For the COVID-19 Vaccine. Please Call for More Information and to Schedule an Appointment.
We are a COVID-19 Testing Facility, No Appointment Needed. Call For More Information.
For In Store Test: There Is A $35 Specimen Collection Fee For The PCR Test. The Lab Will Bill Your Insurance For Your Test Results.
We Also Offer The Rapid Antigen Test For $65. Test Results Received In 15 Minutes.
At Home COVID-19 PCR Testing
Colombo's Pharmacy offers our patients COVID-19 PCR Testing in the comfort and convenience of your home or office with next day results. Please call 347-369-1077 to schedule your appointment.
Out of Pocket Costs:
COVID-19 PCR Testing: $150 per patient
*Additional lab fees are covered under most patients' insurance policies. Uninsured patients will be responsible for any additional lab costs directly with Empire City Laboratory.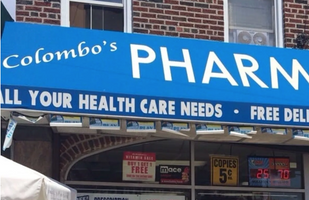 Vito Colombo, RPh
Serving the Middle Village Community
22 Years of Experience
Exceptional Service
Be Happy, Be Healthy, Be Well!
The Colombo family has lived in and served the Middle Village area for 50 years. We offer traditional prescription filling, compounding, immunizations, long term care and much more.
What Our Patients Love About Our Pharmacy
I love Colombos! been going for years and grew up in the neighborhood. the staff are all very friendly and helpful and the pharmacists are very knowledgeable and friendly. I have and will continue to reccomend them to anyone I speak to.
Sweetest and most genuine and sincere business owner you will ever meet. Vito cares, he makes sure that his staff treats customers with respect and he will always go above and beyond. He listens to each person, he knows their needs and he will make phone calls to doctors if he needs to in order to get the patient what they need.
Ever since I found Colombo's I have not gone anywhere else for my medication. They fill your prescriptions fast and efficiently. The staff is so friendly and personal with each of their customers that you can't help but feel important. They take the time to answer questions and give advice and have a wide variety of medicine in stock. I will not be going anywhere else. I never write reviews but I was compelled to do so for them
Absolutely the best personalized, service. Friendly owner & well trained attentive staff. Like family. Plus it's important to keep local businesses going for our own good.
❮
❯
Subscribe to our newsletter 
Stay up to date with our pharmacy with exclusive content.